"They transformed our backyard from a concrete mess
to a garden oasis." ~ Tony G, Denver
SERVICES

Spend more time enjoying your landscape in the dappled shade of an arbor or pergola. These structures allow for expressive design and can provide shade in the summer while letting in more light in the winter than the traditional overhead structure. Grow hops, grapes or a blooming vine above you.

Draw guests together with a functional and aesthetically pleasing fire feature. Enjoy the stars by firelight and stay warm year-round. We can install gas or wood burning features in many shapes and styles, from contemporary to rustic or traditional.

We offer customized gardening and horticultural services to enhance your landscape and keep it beautiful and healthy. These maintenance programs are tailored to your specific needs and ongoing care may be scheduled as a weekly, biweekly or monthly visit. Regular services include weeding, deadheading, pruning, disease/insect monitor and control, annual flower care, and bed fertilization. Additional services include annual planting or beds and containers, clean-ups (leaf/debris removal, seasonal pruning/cut-back), irrigation services, lawn services, fertilization, deep root feeding, winter watering, bulb installations and arbor services.
Call us for a customized maintenance plan (303.525.9595) or fill out our New Client Form and we will reach out to you.

As the Mile High City continues to grow, as does it's population's interests in green spaces to help connect them to fleeting natural surroundings as well as a sustainable lifestyle and environment. Maximizing these ideas, the opportunity to install landscape features on rooftops and walls have become a reality. Have a deck that could use a little color and texture to soften the edges? Do you have rooftop access you would like to turn into an outdoor living space that is complemented by a beautiful plant palette and possibly some fresh herbs for the kitchen? Ask one of our designers how to make this into a reality for you!

Patios for dining and entertaining are the most popular request from our customers. From expansive patios, to intimate spaces and pathways, the incorporation hardscape can be an excellent way to create an outdoor room and make your landscape more usable. We install patios and walkways of varying shapes, sizes, single or multi-level. Many materials and colors are available so that the finished product caters to your style and needs. Popular options are concrete and brick pavers, styled concrete, cedar and composite wood, flagstone, and granite fines.

Colorado's dry climate makes irrigation a must have for most landscapes but these systems need not be wasteful. We install drip and netafim (subsurface) irrigation coupled with sensitive irrigation controllers resulting in an efficient and water-conscious system. Spray systems for turf and tall shrubs are installed and adjusted properly to guarantee minimal overspray and run-off as well as a long life of the system.

We offer unique holiday lighting products, so your home or business can spread cheer and stand out all season long. Our products are high-quality and will last for seasons to come. We offer season long maintenance on all lights, scheduled removal and storage during the off-season.
Visit our HOLIDAY LIGHTING SITE.

Walls can be used to define different areas in the landscape or to build a privacy screen. Sitting walls can frame a view and offer guest a nice spot to enjoy the space. Terraced retaining walls can be used to make steep slopes usable and add interest of multiple levels.
The natural style of stacked flagstone has a great Colorado look and is perfect for rock gardens while pre-fabricated stone and concrete blocks are more suitable for a strong, formal line.

Adding landscape lighting can increase your landscape enjoyment, from a soft glow greeting you when you arrive home, to a lit patio you can use for entertaining and dining well after the sun goes down.
Landscape lighting also offers better safety when walking through a space and increases general home security.

Diggable's certified specialist can help your existing plants thrive with the following services. Call for a custom quote.
Deep Root Tree & Shrub Fertilization
Fertilization, Aeration, Weed & Disease Control for Lawns
Growth Regulators – Improve health, appearance, reduce disease in plants.
Tree/Shrub Injection, Soil Drench, and Spray Services to Prevent or Treat:
Iron Chlorosis
Japanese Beetle
Fire Blight
Emerald Ash Borer
Ips Beetle
Grubs, Aphids, Scale & More

PLANTING – Great attention to plant choice ensures pleasing colors and textures year-round as well as varying heights and bloom times. We are committed to sustainability and choose native and xeric plants when possible to create a water-wise plant palette.
GARDENS – The "grow your own" movement is thrilling, and we love building gardens into our landscape designs. If you are interested in installing a vegetable garden, compost bin or chicken coop, we can help you make these spaces practical and user friendly.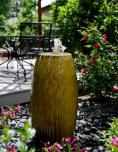 Soften the sound from the street with a cascading stream or encourage wildlife to share your yard with a bubbling fountain. Water offers a serene quality when used in the landscape. These elements can be used to enhance your interaction with your landscape and add an audible quality to your outdoor space.